Way back in the 1980s, when I was in school in Mangalore, a coastal city in Karnataka, India, fountain pens were still seen around with students and I remember we coveted the Hero FP with the hooded nib…the Hero 330…it was a foreign pen, you see…and it had a pump filler (as we called the aerometric filler during those FP lingo-ignorant days)…much better than the locally available ED fillers (mainly Camlin and Wilson) that we were compelled to use (and now rue our ignorant decisions to cast them aside…)…the pump fillers did not leak (so we thought) and they looked sleek with a hooded nib and wrote a fine line and all that…the fathers of many students in our school worked in the Persian gulf countries like Dubai, Abu Dhabi, Bahrain, Oman, etc., and on their half-yearly visits to Mangalore some of them would bring back Chinese FPs as gifts for their children…and these guys would get a chance to flaunt them in school the next day and we would beg them to have us use it for a while…and one day one of them brought an entirely enticing and charming FP to school and we couldn't stop drooling…it had a different kind of nib…an encircled nib…and it also had a retractable ball pen at the other end (if the ink is exhausted, you don't break any sweat, you hold the other end, and you unscrew and let out the ball pen and continue writing…wow!!)… it was like an FP dream coming true…and for many many months this guy carried the most enviable FP in school…it was the Wing Sung 727…and the nib was so utterly innovative and charming that we marvelled at the manufacturer's ingenuity and all that…and now in retrospect, I realised that that was my first introduction to the 'conical nib'… FPs were only for writing at that time and we carried on with whatever we got grudgingly, longing for the fashionable use-and-throw Reynolds ball pen that some of my friends (the same sons of Persian gulf-based fathers) flaunted … ironic…
And now many years on and re-entering the quaint and wonderful world of FPs, I learnt many things…the nib on the Wing Sung FP that I saw then was actually 'inspired' by the legendary Triumph nib introduced by Sheaffer in the 1940s…and as many FP sites tell us, it was an innovative design and vastly improved the functionality of the nib…and my efforts at getting hold of the legendary Triumph has so far not proved successful…and the only Triumph kind of Sheaffer FP that I managed to locate in a small old shop happens to be an Australian Sheaffer…though I don't feel entirely fulfilled with this Triumph(!), I thought this can be a useful starting point to look at how far the nib and its design has travelled…from USA to China and from there to India…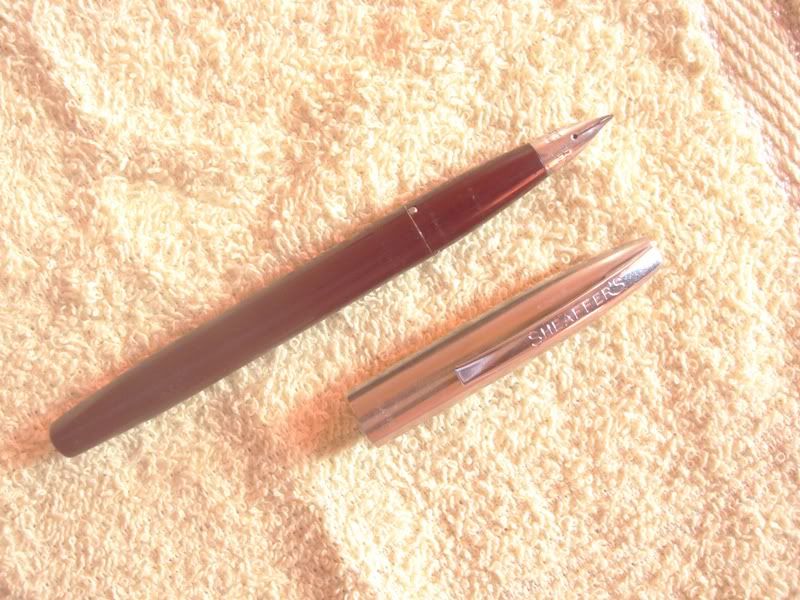 A year or so back, on a visit to Deccan Pen Stores, here in Hyderabad with Hari, I saw the Wing Sung 727 again, and the sight of the pen took me back to my school days…and, mostly for nostalgia's sake, I bought two, one in burgundy and the other in black…I filled the burgundy one with black ink and used it for a while…the writing is smooth and all that…and when I took it to my workplace and showed it to my colleagues, they were amazed at the shape of the nib, similar to my reaction 30 years ago when I saw it first!! Some things don't change…here is a picture…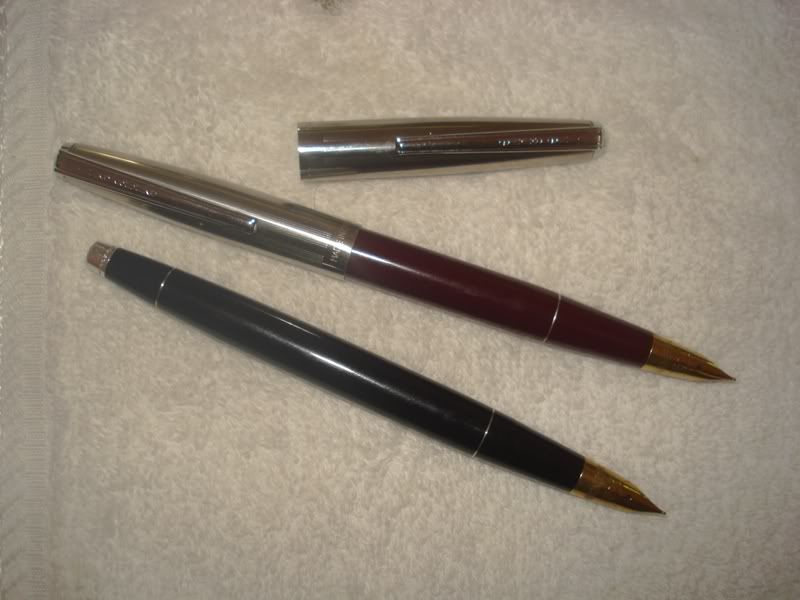 Just as I was re-entering the world of FPs…I heard about Ratnam Pens in Rajahmundry and remembered having read about it in a magazine article…one of my colleagues told me she had actually been to their manufacturing unit while on a visit to Rajahmundry and had purchased a couple of FPs, but alas, she had misplaced them or lost them…I started hounding another colleague who was also interested in FPs and he finally managed to trace some distant cousin who lives in Rajahmundry and asked him to send two pens…he kept one for himself and gave me this ebonite pen with the conical nib…as soon as I saw the nib, I knew that it was the 'legendary' Wing Sung nib…I still had no idea that an 'original' existed…!! I remember I was slightly unhappy on being given a Ratnam FP with a Chinese nib, whereas my colleague kept the other open nib Ratnam for himself…again, in retrospect, I am pleased that I was given this pen…I hear Ratnam no longer makes this kind of pen…(I am not completely sure of this though…)…In fact, this Ratnam ebonite FP was my first conical nib FP, even before I bought the two Wing Sungs…this is how it looks...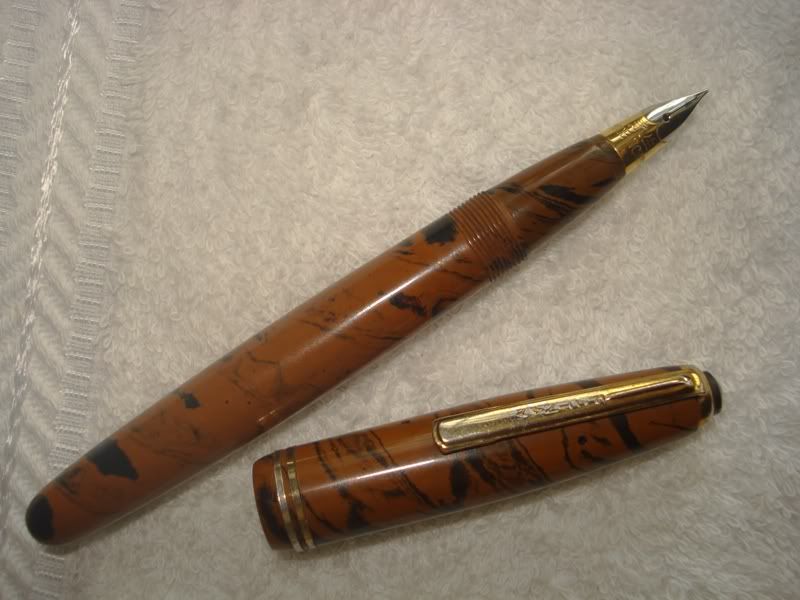 And then on another visit to Deccan Pens, Abids, I came across a Brahmam ebonite FP with the Wing Sung conical nib…it looks like the 146, with a white dot on the cap and all that…again, this Brahmam FP also has a two-toned conical Wing Sung nib…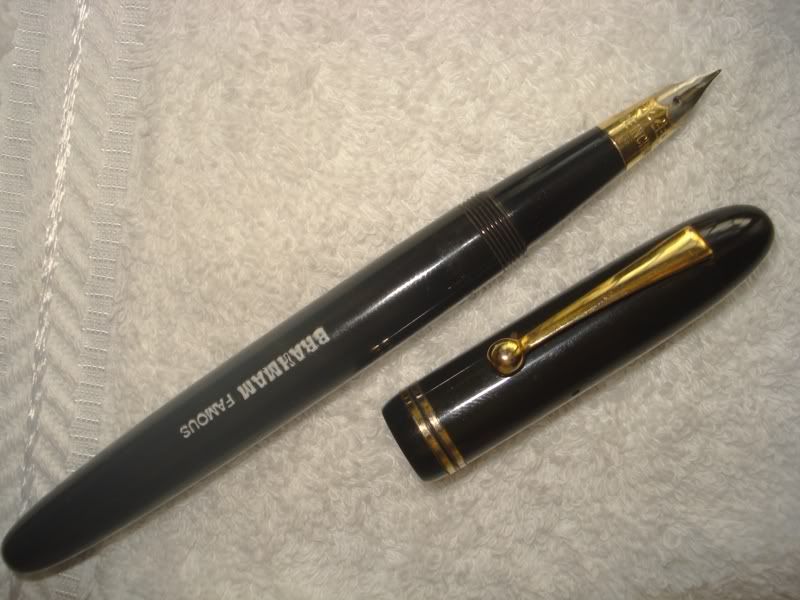 The Swarna ebonite with the conical nib was totally unexpected…a friend of mine had seen my post on the Swarna Sumo and wanted a similar pen and asked me if I could help…I called up the Swarna people and requested them to send me 3 Sumo pens in different colours…they sent me 3 totally different pens…anyway, my friend was happy with one of them and took it…and I had the rest for myself, and one of them was this black ebonite with the conical nib…now, this nib is not two-toned as the Ratnam and Brahmam FPs…looks similar to the ones on the Wing Sung 727s…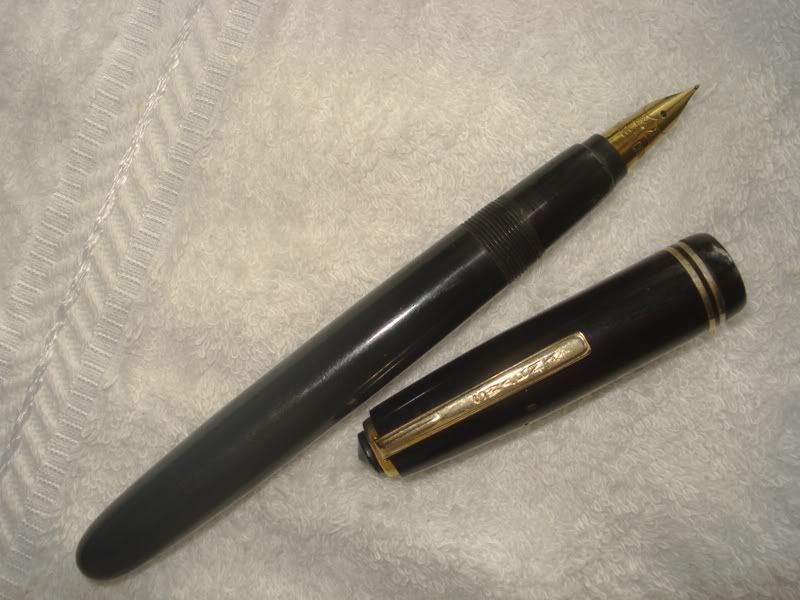 It was after I got this pen that a pattern started forming at the back of my mind…and I thought of putting these pens together as examples of pen-fusions…Indian ebonite bodies with Chinese nibs inspired by an iconic American nib…the nibs are all Wing Sung nibs, but, I am not sure how these Wing Sung nibs came to the Indian FP makers…does the Wing Sung company sell conical nibs in bulk? Or were these nibs cannibalised from old Wing Sung 727s? Or is somebody else making these nibs with the Wing Sung insignia?
Anyway, keeping that part aside…if you had noticed, the feeder in each pen is different from the other…lets have all the feeders (Wing Sung and Indian ebonites) together in a combo photo…
But I still didn't have the Sheaffer Triumph to complete the picture…I was becoming desperate, I wanted to do the post, but felt it'd be incomplete with the Triumph…and then out of the blue I came across this Australian Sheaffer conical nib FP... I don't know whether this pen is also called the Triumph…and so, this Australian Sheaffer was the last one to become part of my 'conical nib' gang ironically…
I don't know whether these examples of Indian ebonite FPs with conical Wing Sung nibs are examples of ingenuity or just fusions or attempts to make an Indian variant of pens with conical nibs… I felt I should put them together in one place…
And...finally...I had posted this on Fountain Pen Network and had received a number of responses and in all this hullabaloo I forgot to mention a unique Indian handmade conical nib made by Ratnamson (Rajahmundry) which is called the Ratnamson 42P...this is a pen made to order by my friend Hari...He chose the plain body silver model (P denotes plain). The interiors of the pen are made of Black Hard Rubber, The barrel overlay and the cap are solid silver. The 14CT gold conical nib is hand hammered to give the shape and engraved with Hari's first and last name. The tip has been flame torch welded at his request, usually they use reistance welding to fix the tip...here are a couple of pics of this example of an Indian handmade conical nib...(these photos were taken by Hari and is part of his post on FPN...)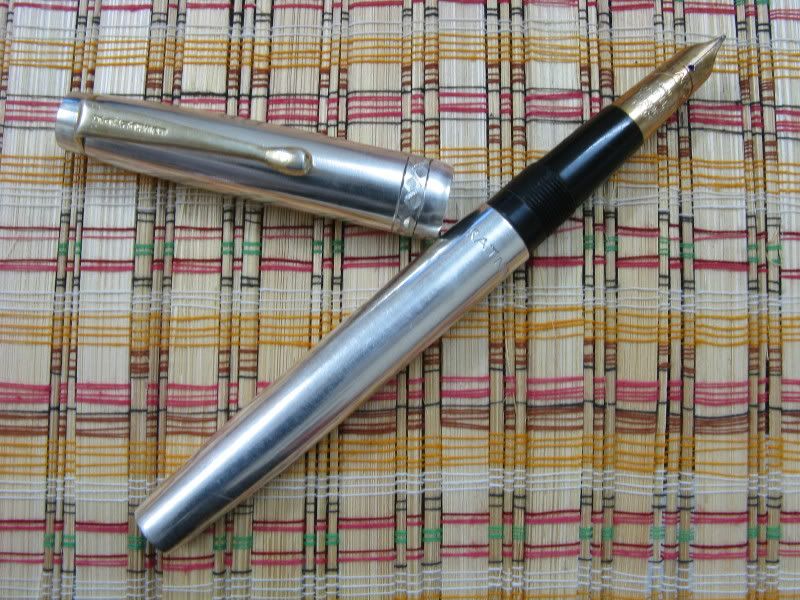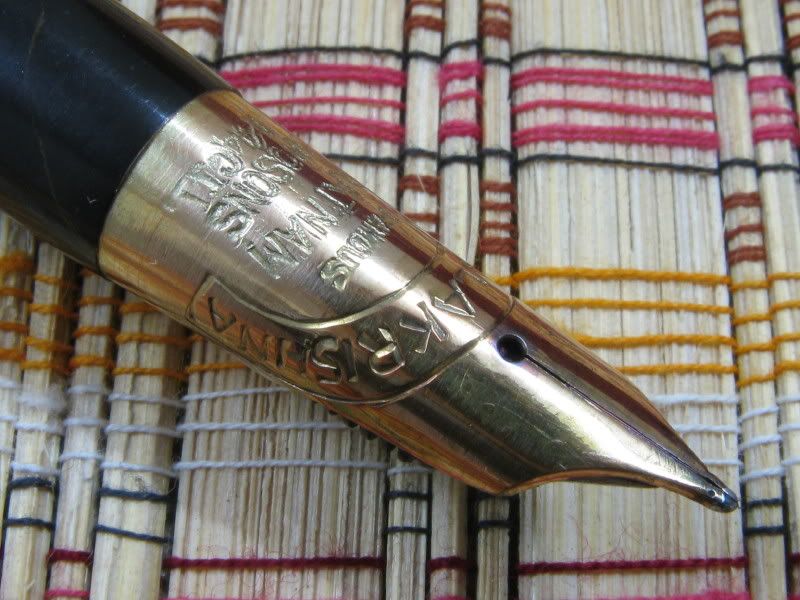 The post has become too long, but I couldn't help it…